For most of us, the bedroom is our haven. and the place we spend at least 30% of our lives. It's where we unwind and relax at the end of the day. With that said, how much do you really enjoy your bedroom?
There are probably a few things you'd like to change here and there, but you never seem to find the time to do so. Making changes to your bedroom while renting can be nearly impossible because you have much less control over what can be changed.
Putting some thought and care into our bedrooms can completely transform the mood and aesthetic of the space. So, whether you're a homeowner or a renter, there are some ways to upgrade your bedroom that don't require large budgets or landlord approval.
Here are 5 simple DIY bedroom improvement ideas that anyone can do!
#1 – Update your headboard
Nothing says 'luxury' like a well-upholstered bed, but these come with an equally attractive price tag to match. If you don't mind working on a project, why not create your own?
There are numerous helpful guides online for building your own headboard, and it is actually simpler than you think. With just a few simple tools, you can achieve the look of a luxury headboard without the price tag. For example, has the measuring tools you need to get everything right (the first-time round).
If you're a fan of the maximalist look that's currently popular in interior design, padded headboards are a chic way to dress up what would otherwise be a bare space in the bedroom. This will add comfort and warmth to the room because it is made of a textured material such as velvet.
Beginning your DIY bedroom upgrade with a feature headboard allows you to layer your bedroom with other materials and accessories as you go.
#2 – Repurpose

Upcycling is a huge trend right now, with a focus on re-purposing previously unloved items. This not only helps to reduce the production of mass-produced, low-quality furniture, but it also keeps reliable and good furniture from being discarded for no reason.
Furthermore, upcycling furniture allows you complete creative freedom to paint or style these pieces however you see fit.
Look around your home to see if you don't already have a great piece of furniture just waiting to be transformed! Alternatively, visit your local vintage furniture retailer, charity shop, or market, where you're sure to find some great pieces in need of some TLC.
Often, all that is required is some sanding and a fresh coat of paint to breathe new life into these pieces.
#3 – Potted plants and terrariums
All of the most expensive furniture in the world cannot compensate for the effect of having a living, breathing plant or flower pot in your room. There's a lot to be said for decorating with potted plants, and the good news is that it's one of the simplest and least expensive ways to update any space.
Bringing greenery into a room will instantly transform it from drab to enchanting, whether you choose succulents, large floor plants, ferns, or flowers. While not exactly the same as the real thing, if you're short on time and money and want the effect of beautiful blooms without the hassle, you can always turn to artificial flowers.
If you are limited on space, consider attaching smaller pots or planters to your walls to create a miniature living wall. If you can't hang anything on your wall, make your own terrarium with a glass vessel, stone, potting soil, pebbles, and plants.
#4 – Add a beauty station
When it comes to our bedrooms, many of us find that space is the most limiting factor. But don't worry, there is another way to add a touch of luxury without breaking the bank.
Installing a "beauty station" may appear extravagant, but in reality, it's nothing more than attaching a wide shelf at hip level to the wall, creating a small vanity area.
Simply hang a mirror on the wall and purchase (or upcycle) a stylish chair to tuck under for the ideal beauty station. You'll have the ultimate backstage-style beauty station of your dreams if you can hang some lighting around the mirror.
You'll probably spend more time on your beauty regimen when you sitting in a comfortable and beautiful space rather than rushing through applying make up in the bathroom.
#5 – Playing with pillows

Try layering pillows to create a cozy space. This will create a vibe that embraces color and pattern, this look is for you. It's a traditional layered look, but with a hint of warmth, character, and whimsy. Work within a cohesive color palette, but feel free to mix and match textures, prints, and colors.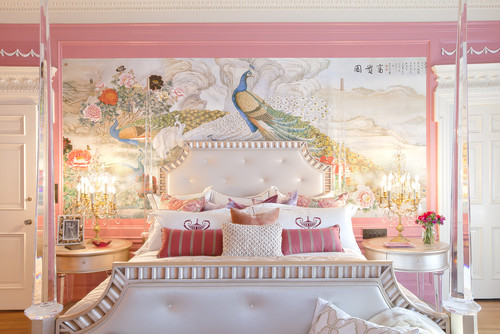 For those with a creative streak, there's always the option of designing their own furniture or upcycling used furniture to give it a fresh look. In your home or elsewhere, look for recyclable things that you may repurpose by giving them new paint or coverings. One or two new pieces of furniture will completely transform your space.
I may receive a commission if you make a purchase via any affiliate link on this page. You can learn more on our Affiliate Disclosure page.